Available in two sizes and a range of upholstery options, McQueen Loose Cushions provide extra dimension and texture to the McQueen Sofa, as well as increased comfort.
SIZE
404S
W36 x D6 x H25 cm
W14 1/5 x D2 1/3 x H9 4/5 "
404M
W36 x D6 x H36 cm
W14 1/5 x D2 1/3 x H14 1/5 "
LEAD TIME
8 weeks to factory door plus additional time for shipping. Find shipping information here.
SPECIFICATION
Available in a range of fabric and leather options, and filled with duck feathers. See menus below for further material information.
Crafted at the solar-powered De La Espada factory in Portugal. Designed by a creative partner and rigorously engineered with the support of our in-house product development team and expert craftspeople. Durability, comfort and aesthetics combine for a product that lasts a lifetime.
Textiles supplied by a renowned Danish partner with fabric mills in Norway, Italy and the UK. Leather sourced from tanneries in Sweden and Italy using only hides from European cattle.
DOWNLOADS
Download product-specific information from our Resource Library here.
Find care information here.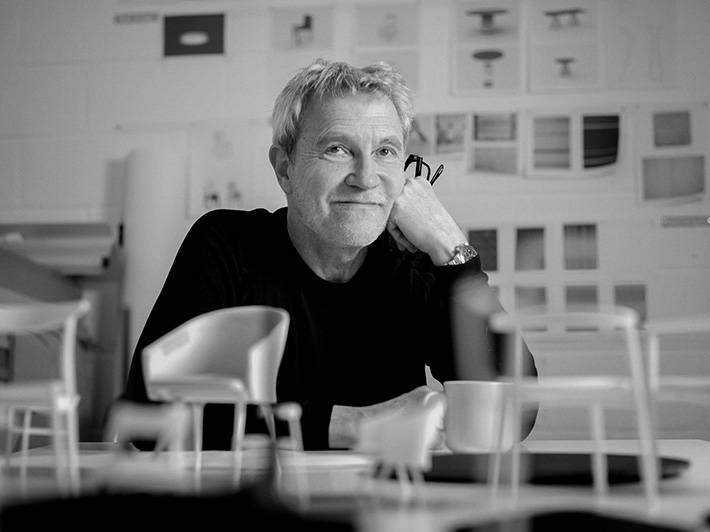 Matthew Hilton is an esteemed British designer whose eponymous product line expresses the technical knowledge and clarity of vision gained over four decades in the industry. Utilising robust materials that improve with the mark of age, Matthew Hilton creates timelessly beautiful, exceedingly functional products that are rigorously engineered. Every view of a design is valued equally, every aspect carefully considered, allowing for a sense of appreciation over time as new details are discovered.
"If you live with something, you might pick it up and look at the bottom. So the bottom of it is equally important. Every aspect is important because it is something that is going to stay in your life," Matthew Hilton.
Our fabrics are hand selected for their luxurious touch, hardwearing performance, and rich depth of colour. The collection represents different price points, with each fabric priced from Range A through Range D.