We are taking a holistic approach to our environmental impact, focusing across a number of areas. We approach our work with our eyes open, searching for new ways to evolve and minimise our environmental impact while continuing to offer products of uncompromising quality.
Find an overview of our practises below, and download our Environmental Policy here.
The longevity of our products has always been central to our approach.
We use low impact materials and finishes, time-honoured craft, and timeless design to create products that last a lifetime.  
We work with some of the best international designers to create a diverse range of furniture that rejects trends, is carefully detailed, rigorously engineered, and expertly crafted, with a poetry of form that speaks to the emotions.
Premium natural materials and expert craftsmanship ensure furniture that is as structurally robust as it is beautiful.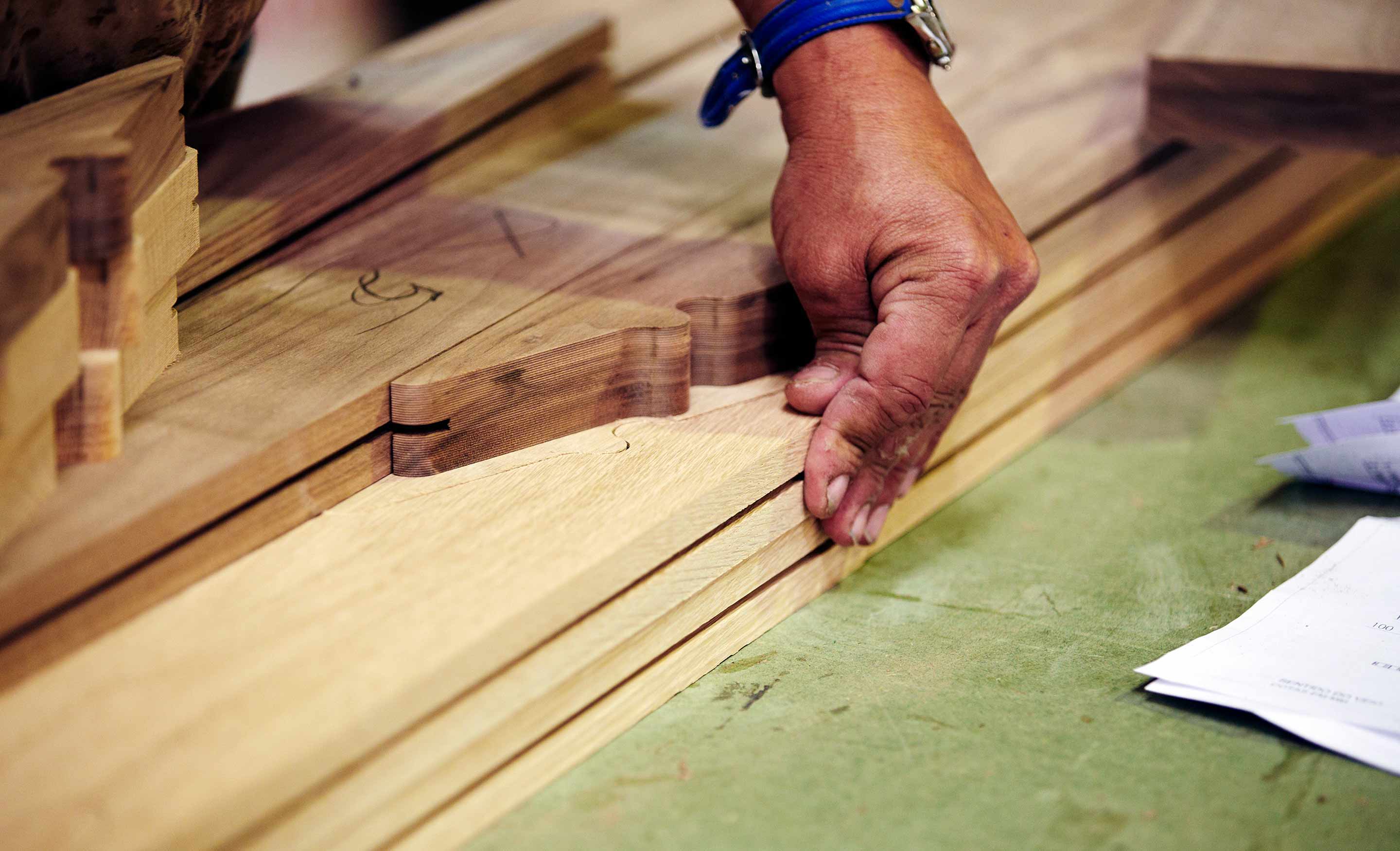 We use only the highest grade timber available, FAS First and Seconds, with the fewest knots and most consistent grain patterns. To achieve the maximum yield, these precious boards are usually reserved for making veneers, but De La Espada uses them as generously proportioned solid planks.
This timber is only available from sustainable farms, as the regular monitoring, pruning, replanting, and general care of the trees on managed forests is what creates planks of this quality.
We work with white oak from the USA and Europe, American black walnut, European ash, and European Douglas fir, sourcing each timber from the location where it is optimally grown.
Our oak comes from the East Coast of the USA and Croatia; our walnut from the Midwest of the USA; our ash from Spain, Portugal, and France; and our Douglas fir from France.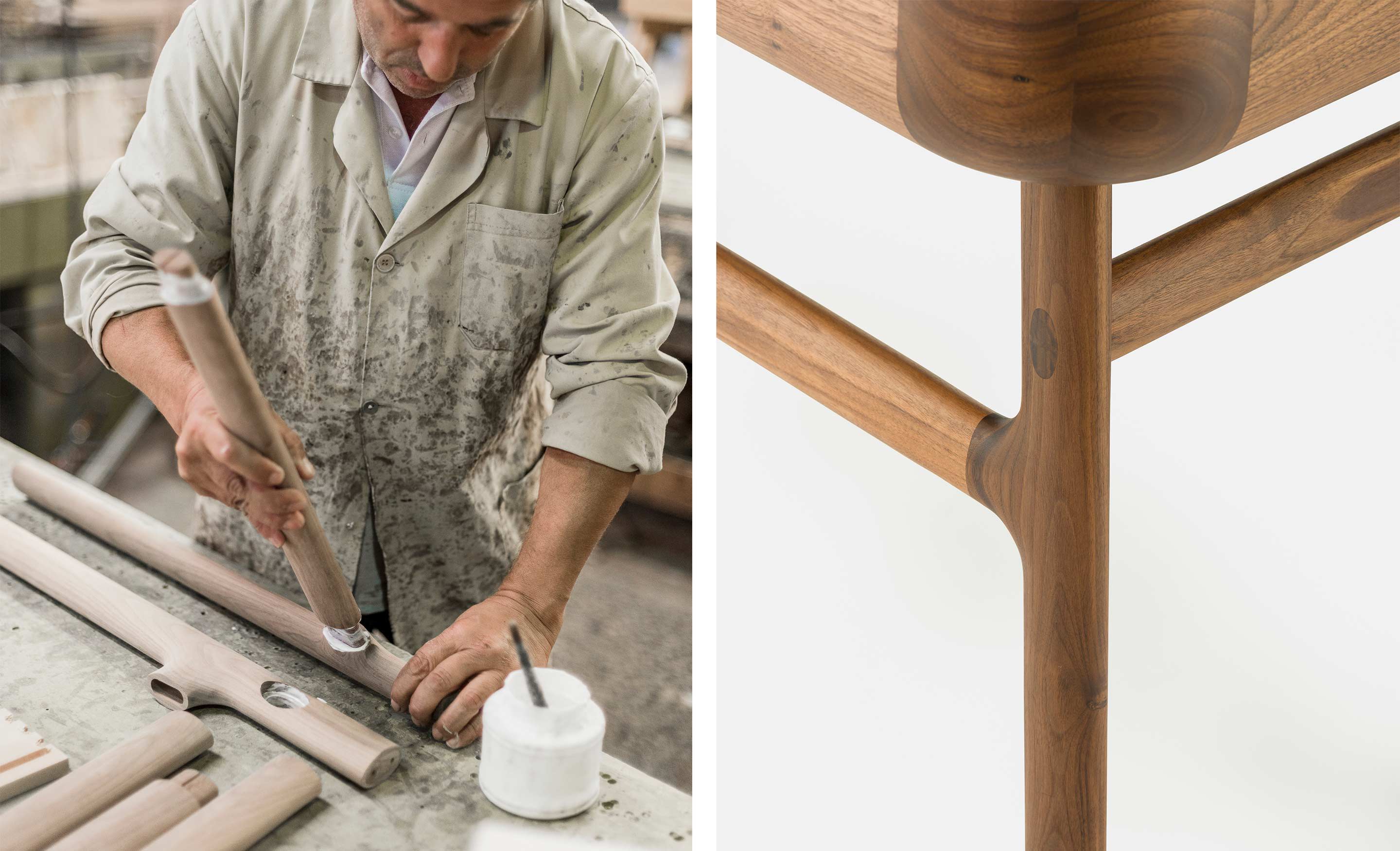 All woodcraft and upholstery is performed in the dedicated De La Espada factory in Portugal.
Exceptionally strong wood-to-wood connections — including mortise and tenon, wedge tenon, dovetail, and lap joints — bonded with water-based wood glue, provide superior, deep, unbreakable bonds for furniture with outstanding structural stability.
Our craftspeople use high tech machinery and handwork for different operations according to which provides greater value: CNC machinery can provide a precision not possible with the human hand, while only a skilled craftsperson can decide how to work each unique cut of wood for maximum strength, or which planks look most beautiful together.
CNC machinery distills the knowledge of the carpenters, product development, and technical teams into one place. CAD (Computer Aided Design) drawings created by our product development team link to the CAM (Computer Aided Manufacturing). The technicians at our factory decide the tools, operations, and sequencing needed for optimal results and programme the CAM accordingly. Even after the CNC is programmed, which can take as long as building a complete piece by hand, the watchful eye of a skilled craftsperson/technician ensures that each unique piece of timber is machined in a way that maximises its structural integrity.
We believe furniture should become part of the family and endure for a lifetime. We build our furniture to last but know that unexpected things can happen, so we offer a lifetime repair service to customers to help their furniture recover in such circumstances.
Solid wood lends itself well to repairs, as it can be easily restored and refinished over time.
Our oil and wax finishes allow the customer to restore the original beauty of their timber at any given moment, through the reapplication of wax or oil and, if required, light sanding.
Our finishes are natural and environmentally friendly, from our oil and wax finish to our water-based lacquer.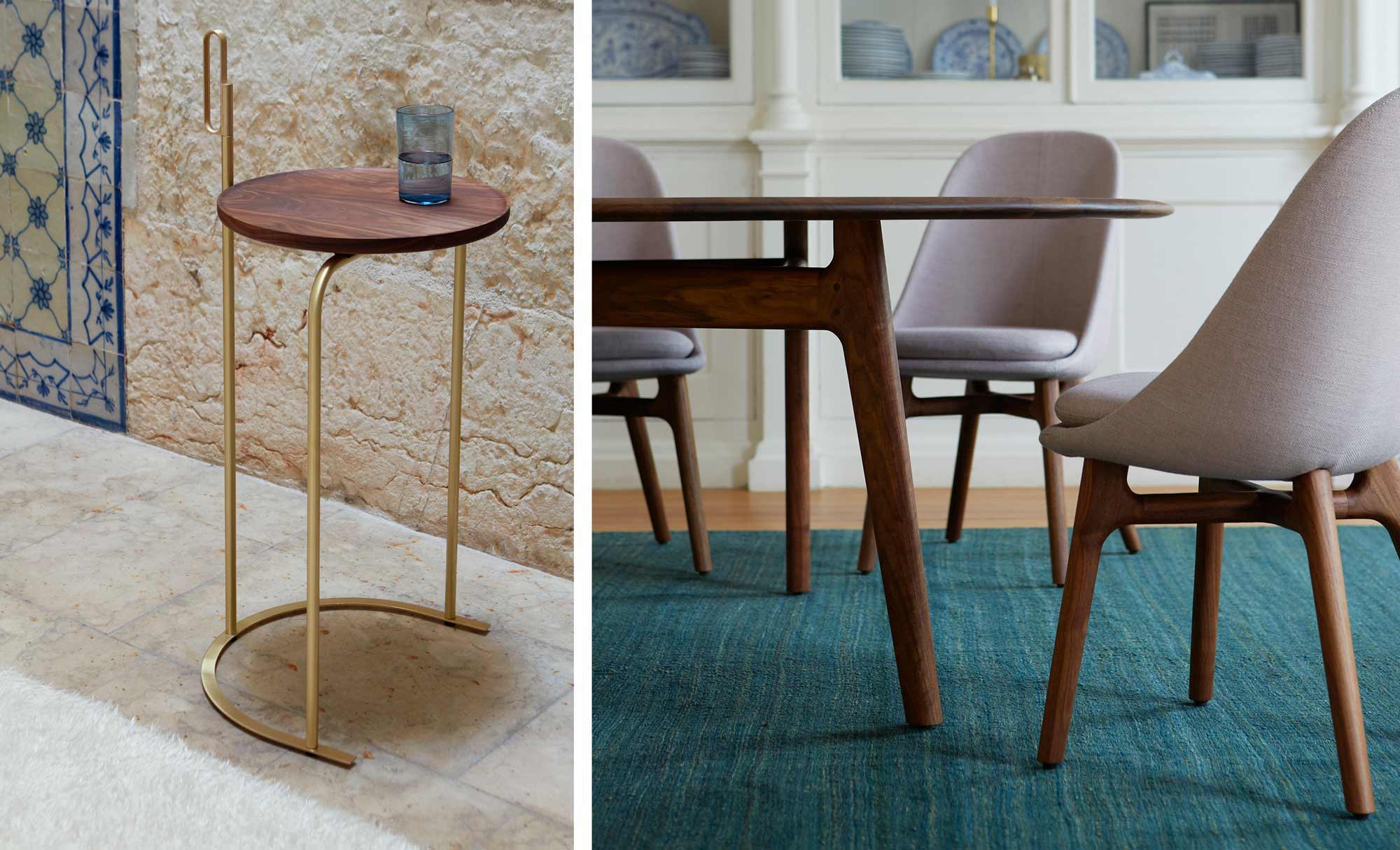 In addition to solid wood, we use other natural materials including stone, metal, and glass, which address our high standards for both quality and sustainability.
These materials are connected using machine fixings; this provides strength, while allowing the various materials to be separated for recycling at the end of the product's life.
Our upholstery fabrics are chosen for their luxurious tactility, outstanding performance, and durability.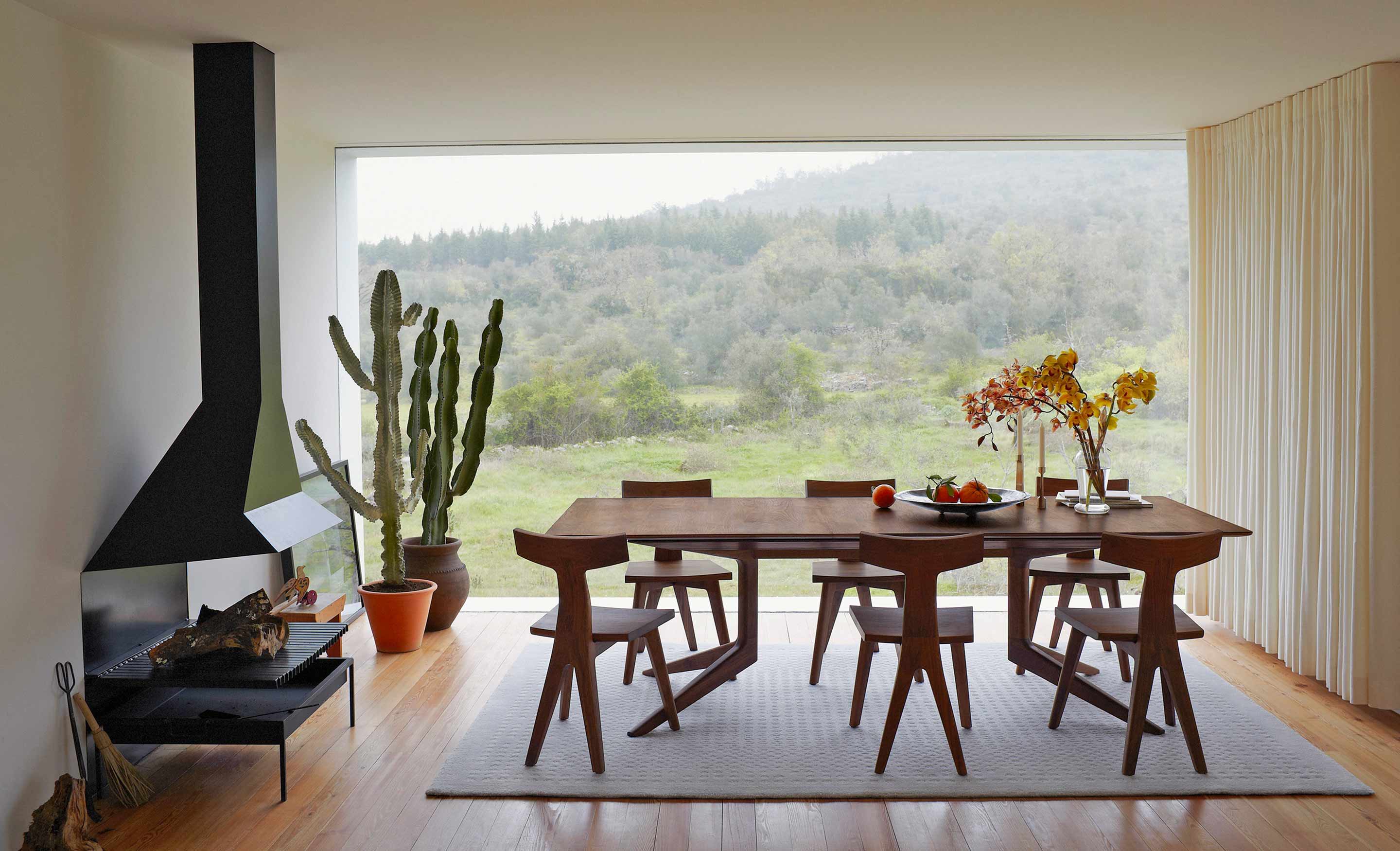 De La Espada furniture has a timeless aesthetic and an emotional desirability which serves to satisfy the ever-changing tastes, surroundings, and attitudes of the end user.
This plays a key role in a product's inherent durability, as it encourages the user to keep the product for a lifetime.
Our design partners express their personality and creativity through their design, something that speaks directly to the heart of the user.
The tactility, detailing, and craft ensure products that improve with the passage of time, gaining ever greater significance in the life of the owner.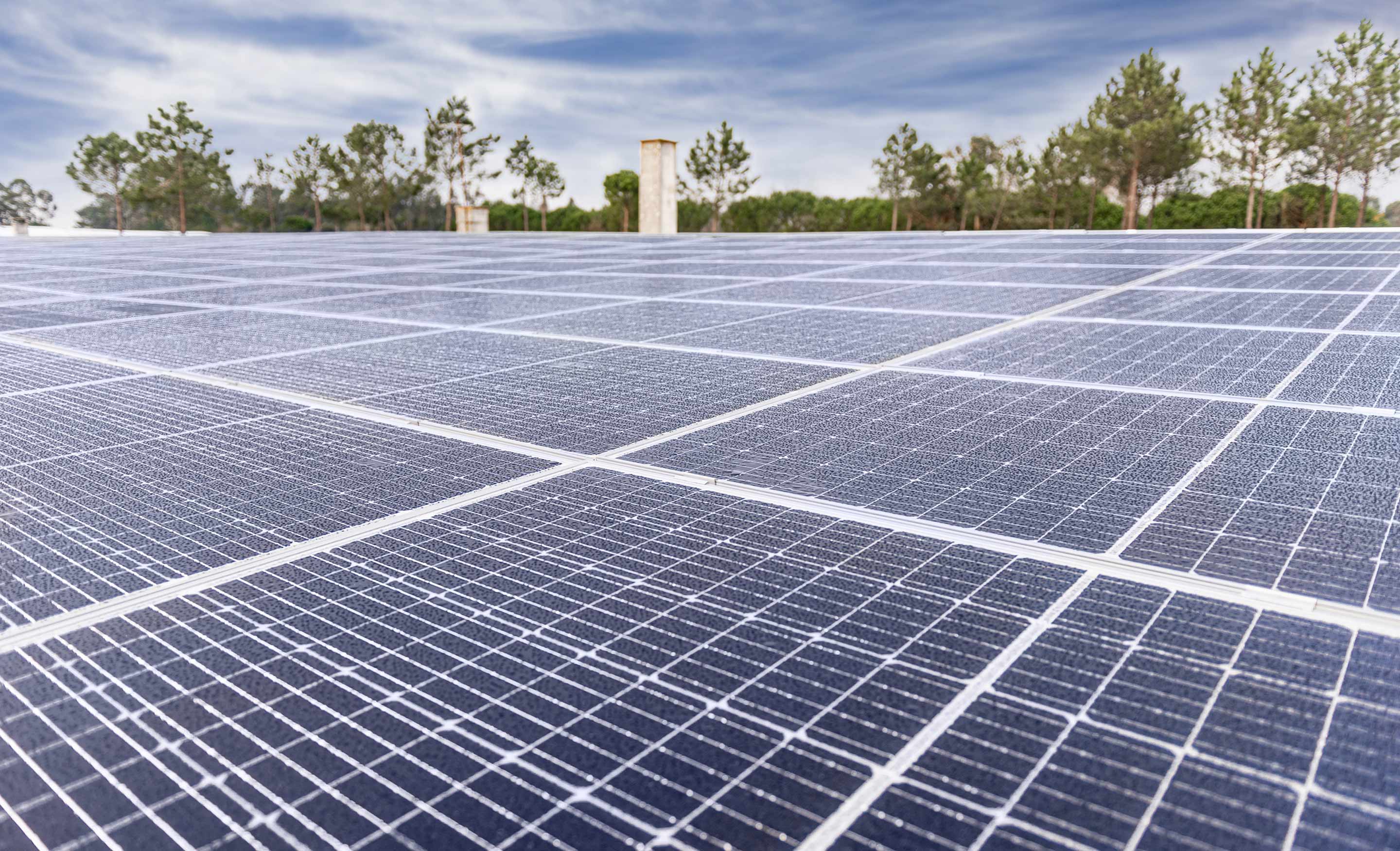 Woodworking is a naturally low-energy endeavour, and our factory further lowers the energy consumption associated with production.
Our dedicated factory utilises energy-efficient machinery and is powered by solar energy.
We make all of our furniture to order, meaning we only use the amount of material and energy required to fulfil orders. This honours the materials and craft while reducing waste.
The De La Espada factory follows the EU rules of filtering and cleaning air and water, and avoids the use and emission of poisonous chemicals.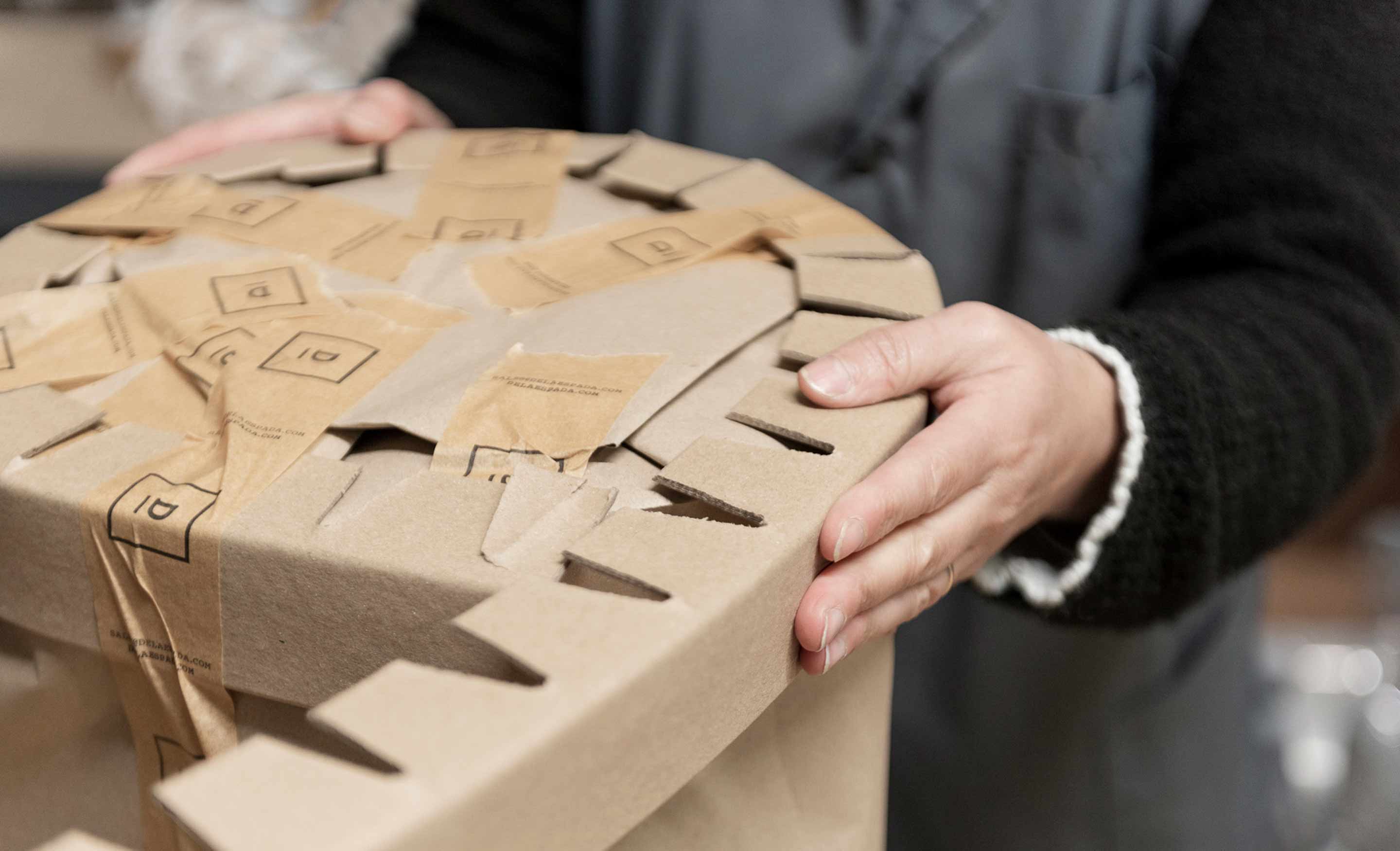 Nearly all of our packaging is easily recycled as cardboard or paper. We use cardboard corner and edge protectors, paper cushioning, paper tape, and cardboard boxes.
Some non-recyclable packaging elements are currently used to protect materials including stone and glass.
We continue to research materials to work toward 100% recyclable packaging.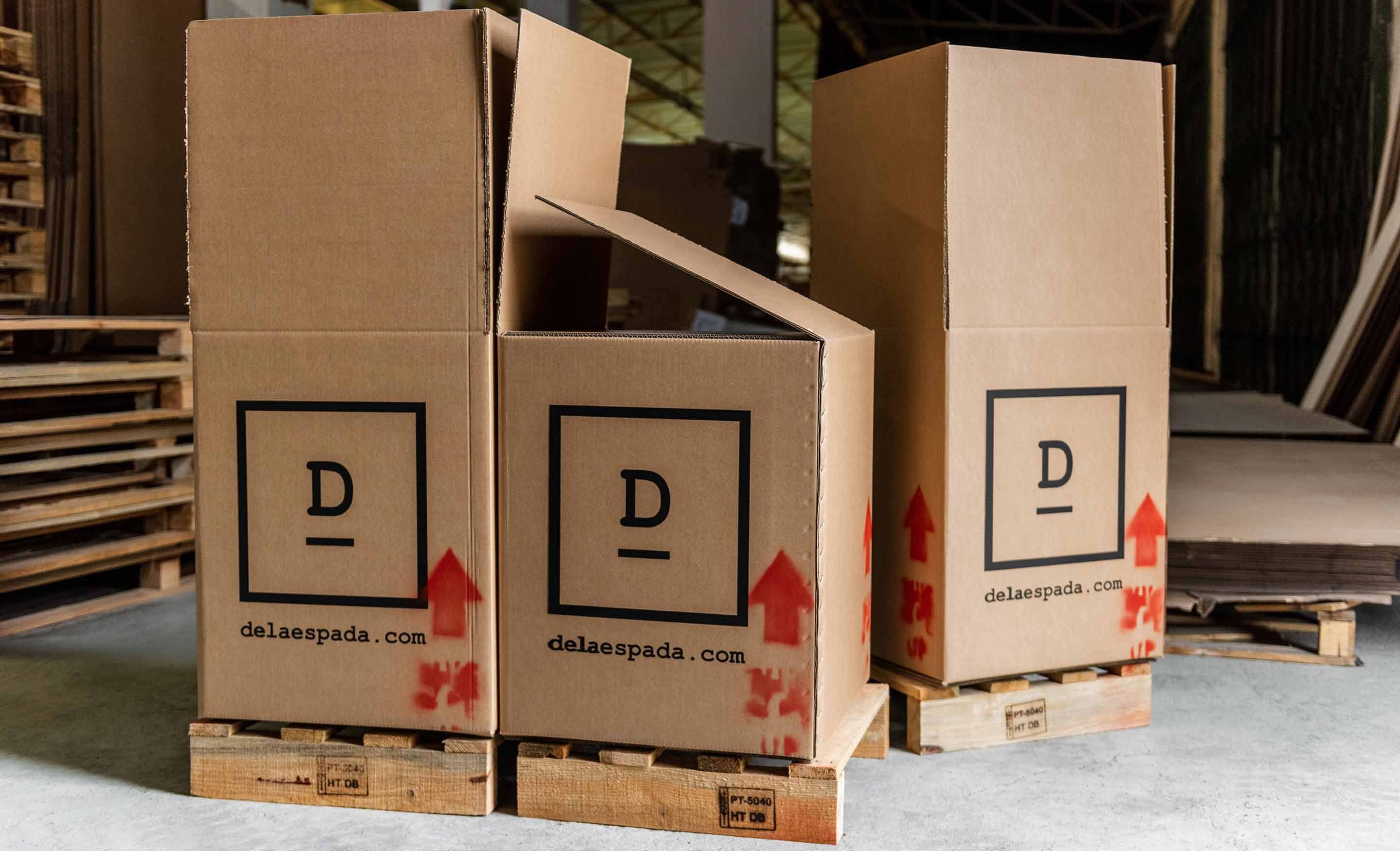 We use triple-wall cardboard boxes as the final layer of our packaging.
Triple-wall cardboard offers superior impact resistance as the inner layer acts as a shock absorber to protect the contents while the outer layer is extremely robust and crush resistant. This cardboard performs better than traditional wood crating as it protects against changes in temperature, an important factor for solid wood furniture.
These heavy duty cardboard boxes have exceptional stability and weight-bearing capacity making them eminently suitable for shipping heavy, fragile items.
The use of triple-wall cardboard is part of De La Espada's commitment to the environment. Cardboard production has a smaller carbon footprint than chipboard, and cardboard can be easily reused or recycled.