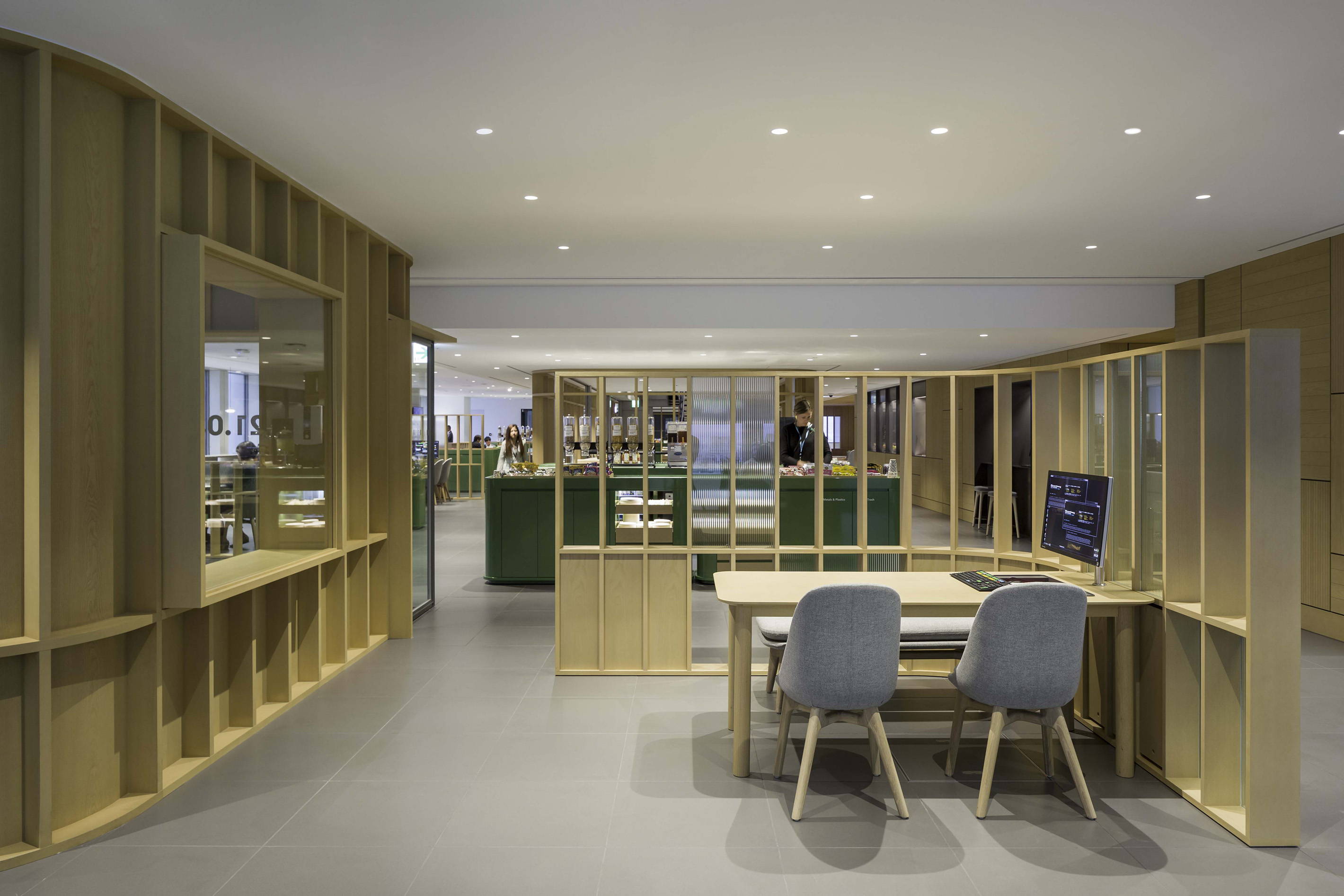 Bloomberg's Tokyo headquarters is located in the Marunouchi district, an area characterised by a contrast of modern steel and glass towers and the picturesque Imperial Palace it borders. Inspired by the juxtaposition of urban intensity and the contemplative gardens of the palace grounds,
Neri&Hu
designed the office drawing from both spectrums of the site's local character to fuse artisan craft with modern materials, while conveying the Bloomberg ethos as part of a collective of global offices.
Raw materials such as wood, stone and hand-dyed fabric create a warm environment, while generous windows offer unparalleled views of the city from the privileged vantage point of the 27th floor.
Oak walls in the reception area meet a long wooden corridor with walls composed of modular, patterned oak panels referencing the Japanese tatami. In the main space, just beyond, the material and colour palette reflect links to an urban context rich in textures, while also referencing nature. Furniture upholstered in hues of blue and pantry snack counters finished in high-gloss powder-coated green metal complement the understated materials of white oak, marble and grey stone.
A series of L-shaped oak and glass screens define break-out meeting spaces. The screens become full height to form enclosures in two areas: a linear enclosure that wraps the iconic staircase, and an enclosed meeting room "pod" which features large windows framing views to the city.
Along the curtain wall, a series of long wooden counters offer employees an informal area to catch up over coffee and take in the beautiful skyline beyond. The large auditorium features a partially exposed ceiling fitted with a grid of custom linear lights, where attendees can view snippets of the city from the corner window.
De La Espada furniture designed by Neri&Hu features throughout the office including Solo Dining Chair, Solo Bench, Solo Lounge Chair, Solo Sofa, Frame Sofa, Trio Coffee Table and Trio Side Table.


Photo credit: Pedro Pegenaute