BEHIND THE SCENES: DE LA ESPADA ATELIER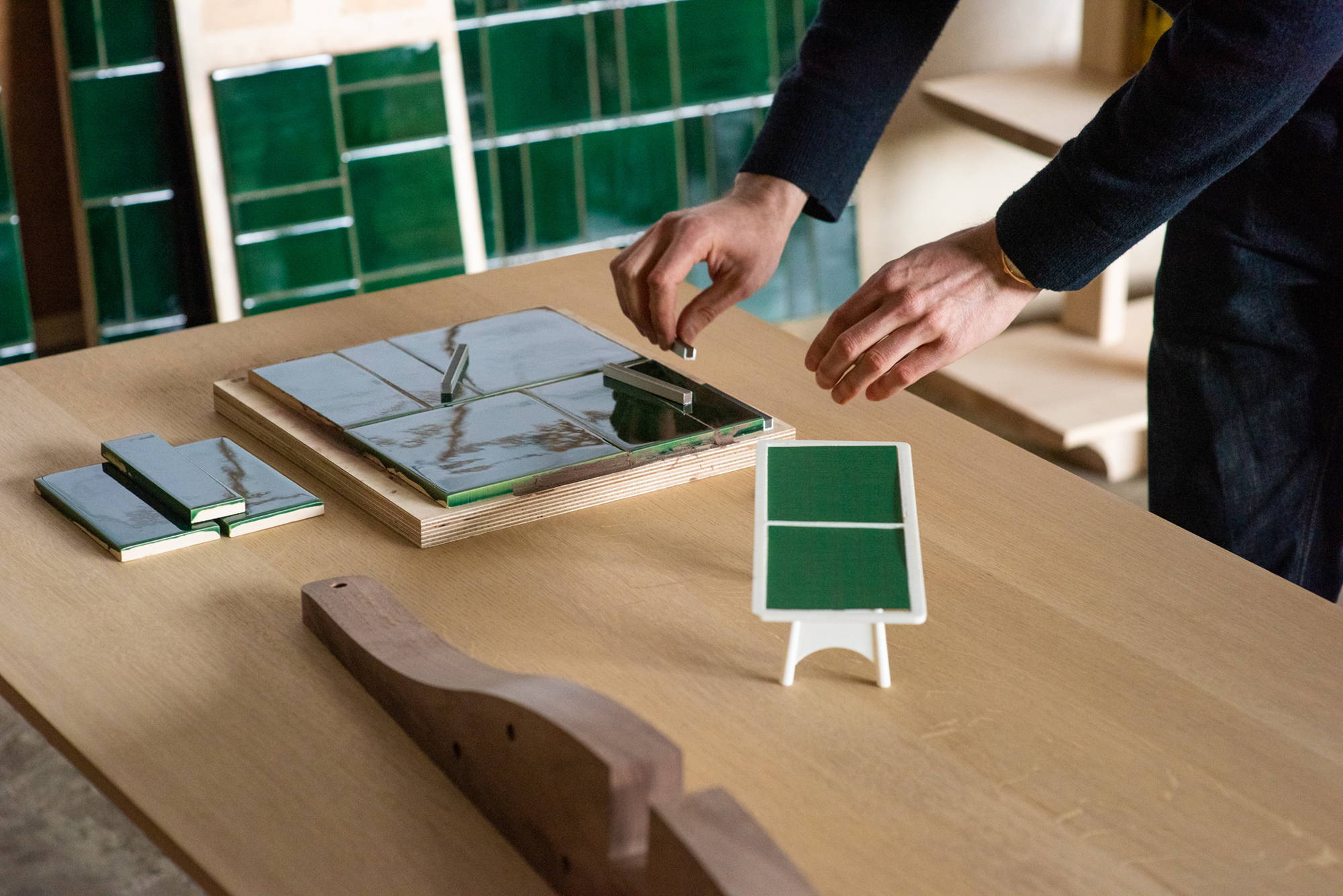 "When I design or think about things, of course I want them to be beautiful, but I also want them to be humble and ... honest."
Our in-house design studio, De La Espada Atelier, launched on our 25th anniversary marking a return to our roots as a designer-manufacturer. Combining the best of De La Espada engineering, craft, and vision, the studio includes design lead Simon Kämpfer and our team of in-house industrial designers and product engineers, in close collaboration with our craftspeople and the company co-founders, Luis De Oliveira and Fatima De La Espada. The design process involves constant discussion at every stage from concept to realisation, to harness the breadth of our expertise and continually push the boundaries of what we do.
Long-standing member of the De La Espada team Simon Kämpfer is a multi-hyphenate creative, originally from Switzerland, specialising in product, furniture and interior design as well as art direction and styling. During his previous role working on art direction under Luis and Fatima, he became well acquainted with our products and design ethos. "The first few years of working within the company, and working with the furniture to create interior spaces, it's always been kind of back of my mind how those pieces might evolve," he explains. 
Now, he is applying his creativity to leading our in-house product design, combining his expertise with that of our product development team, the designers who engineer every product we make.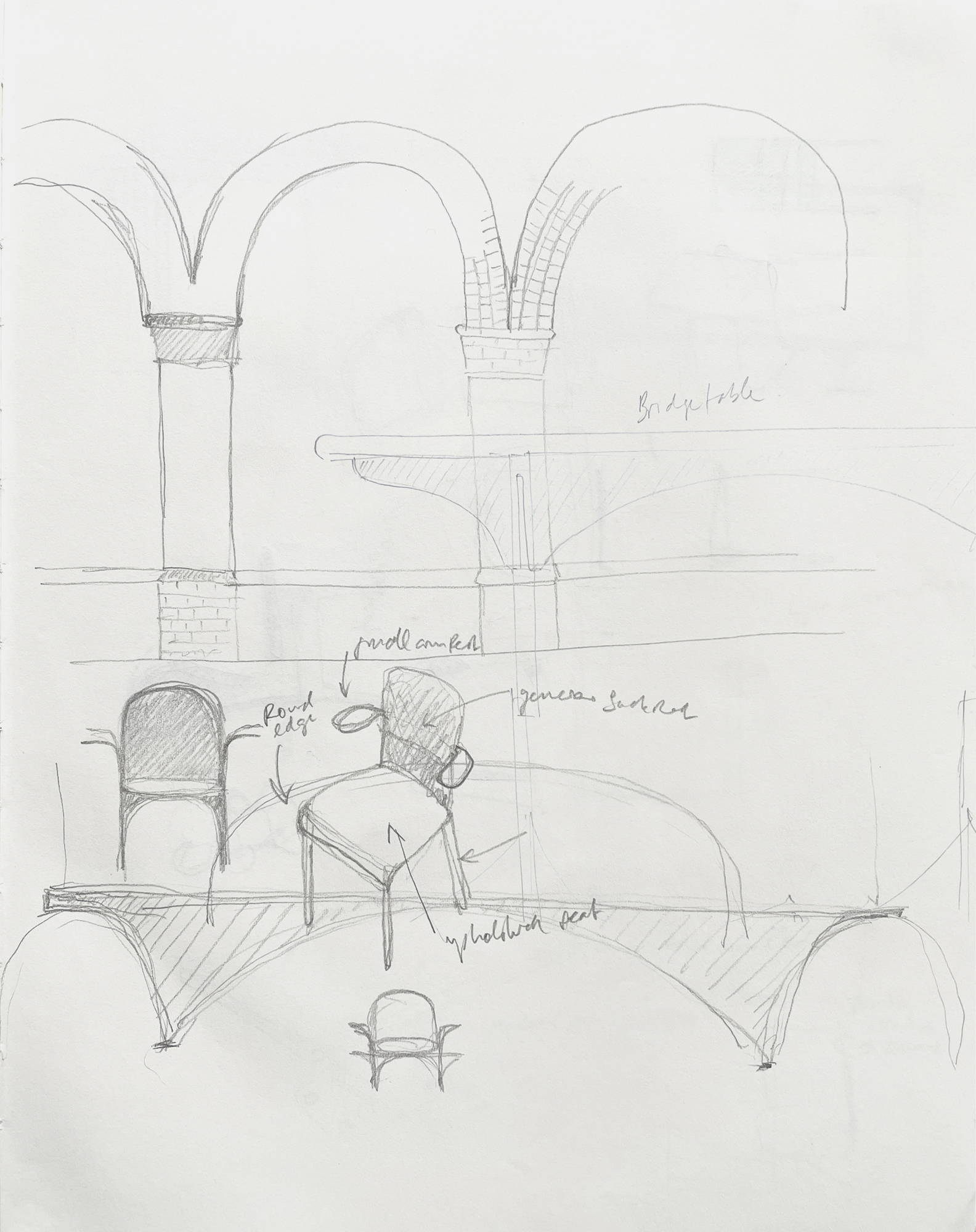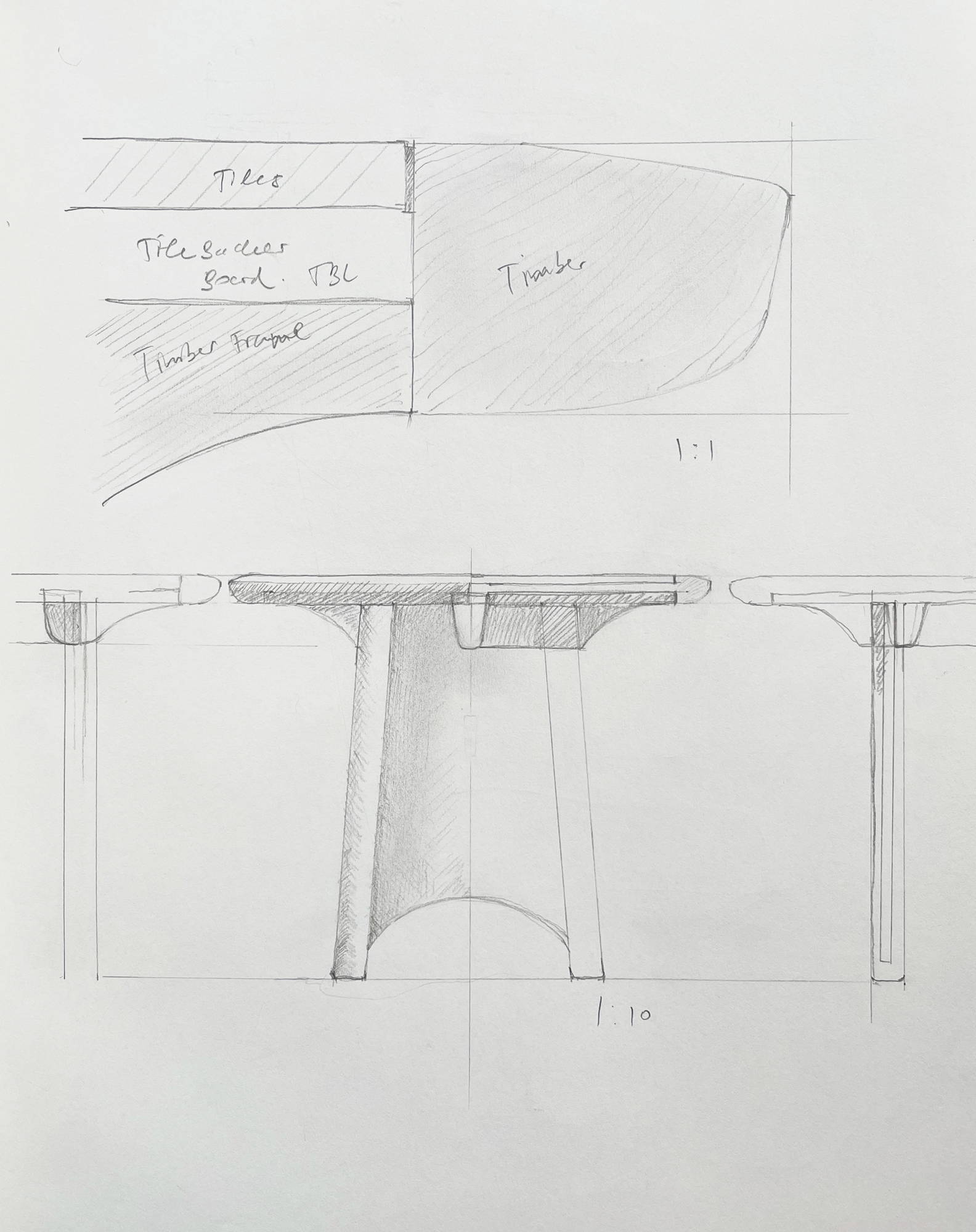 Led by André Silva, our product development team includes Ruben Constanço, David Taipina, Daniela Abrantes, Gonçalo Gonçalves, and Bárbara Cruz. Industrial designers and product engineers with great depth of skill and knowledge, they collaborate on each design from the ground up. Working together onsite at the De La Espada factory office and directly on our factory floor, they collaborate with the design lead, the production manager, the head carpenter and the upholstery department and are also in close contact with suppliers, applying their broad expertise to bring together the worlds of design and craft with the needs of the end customer.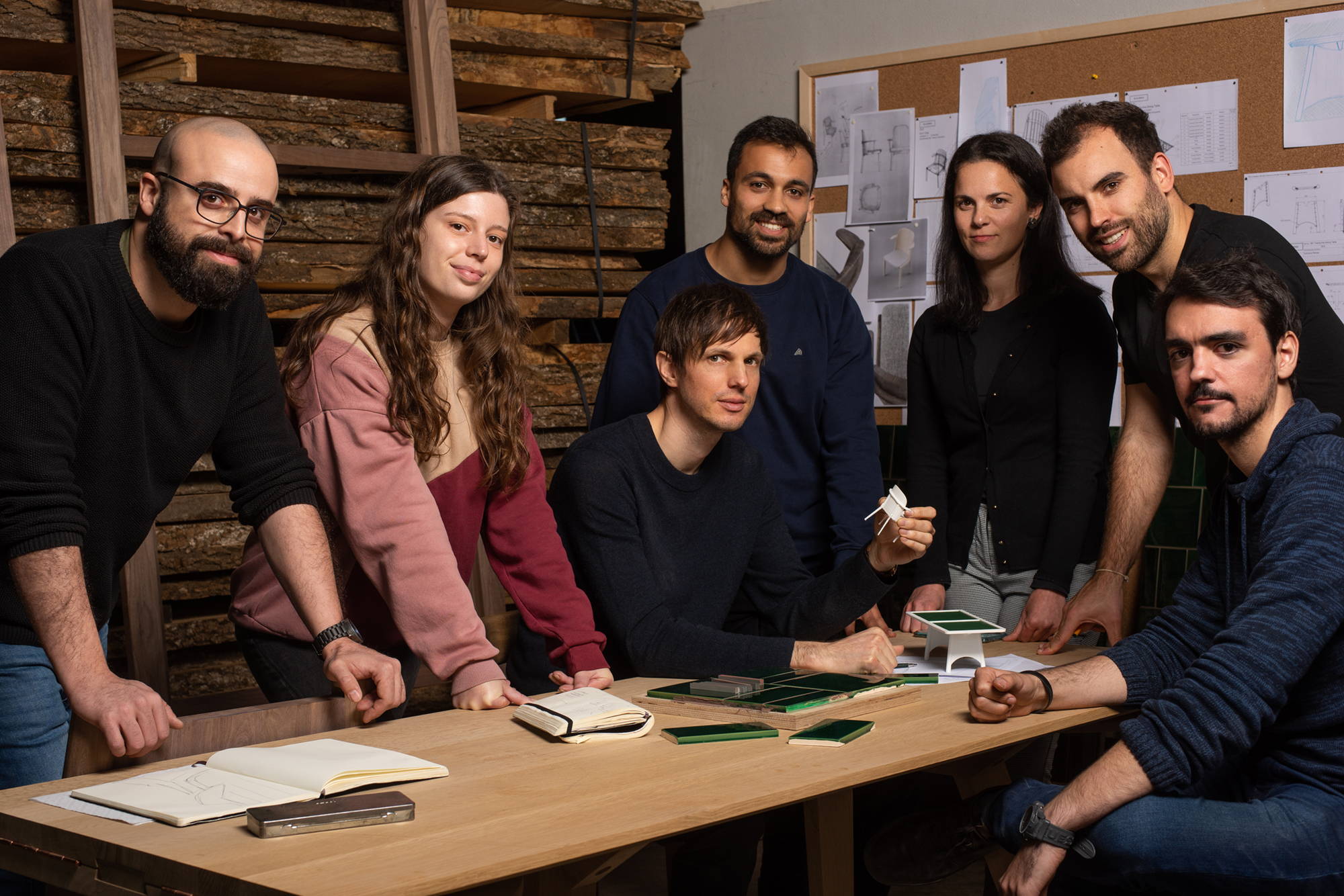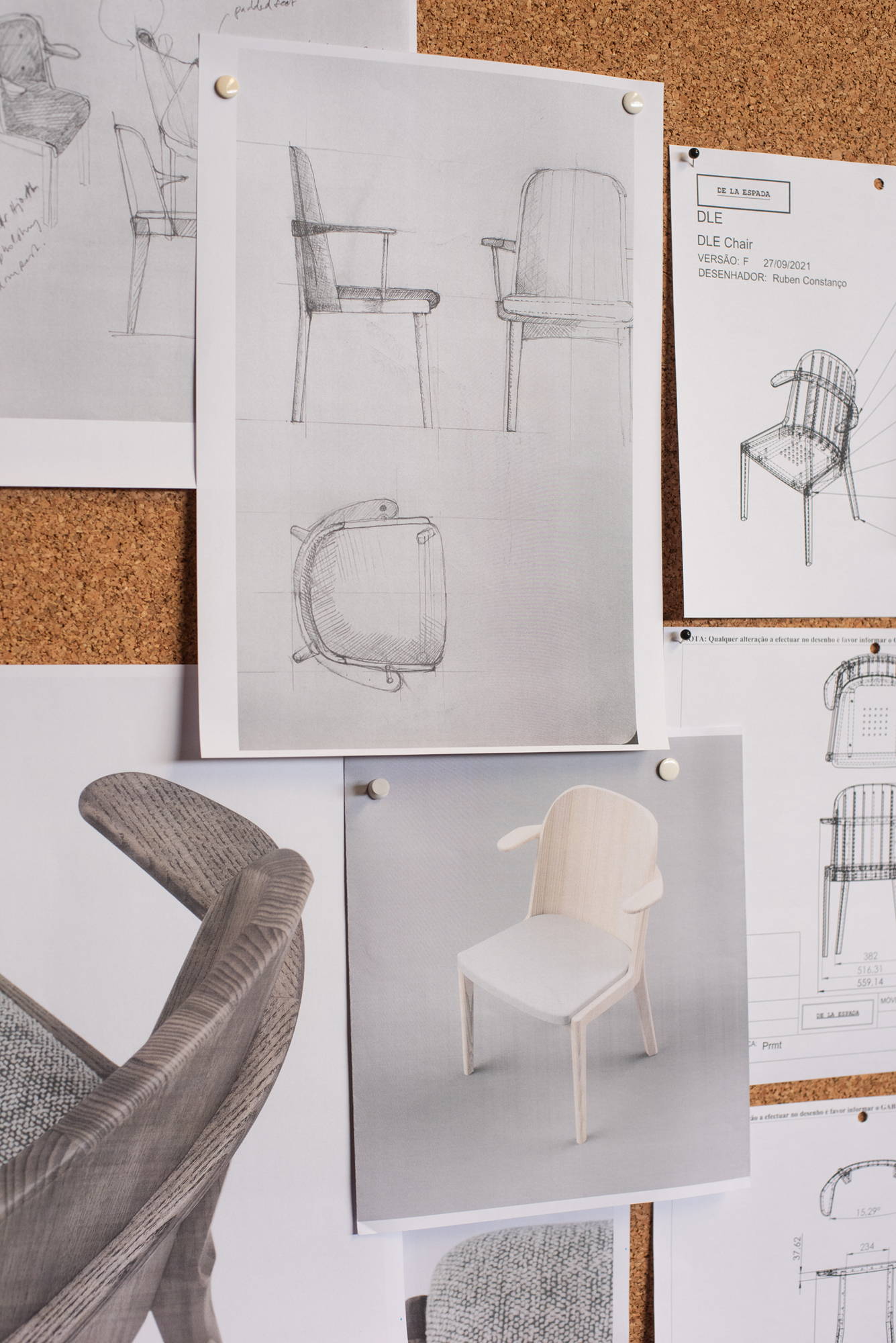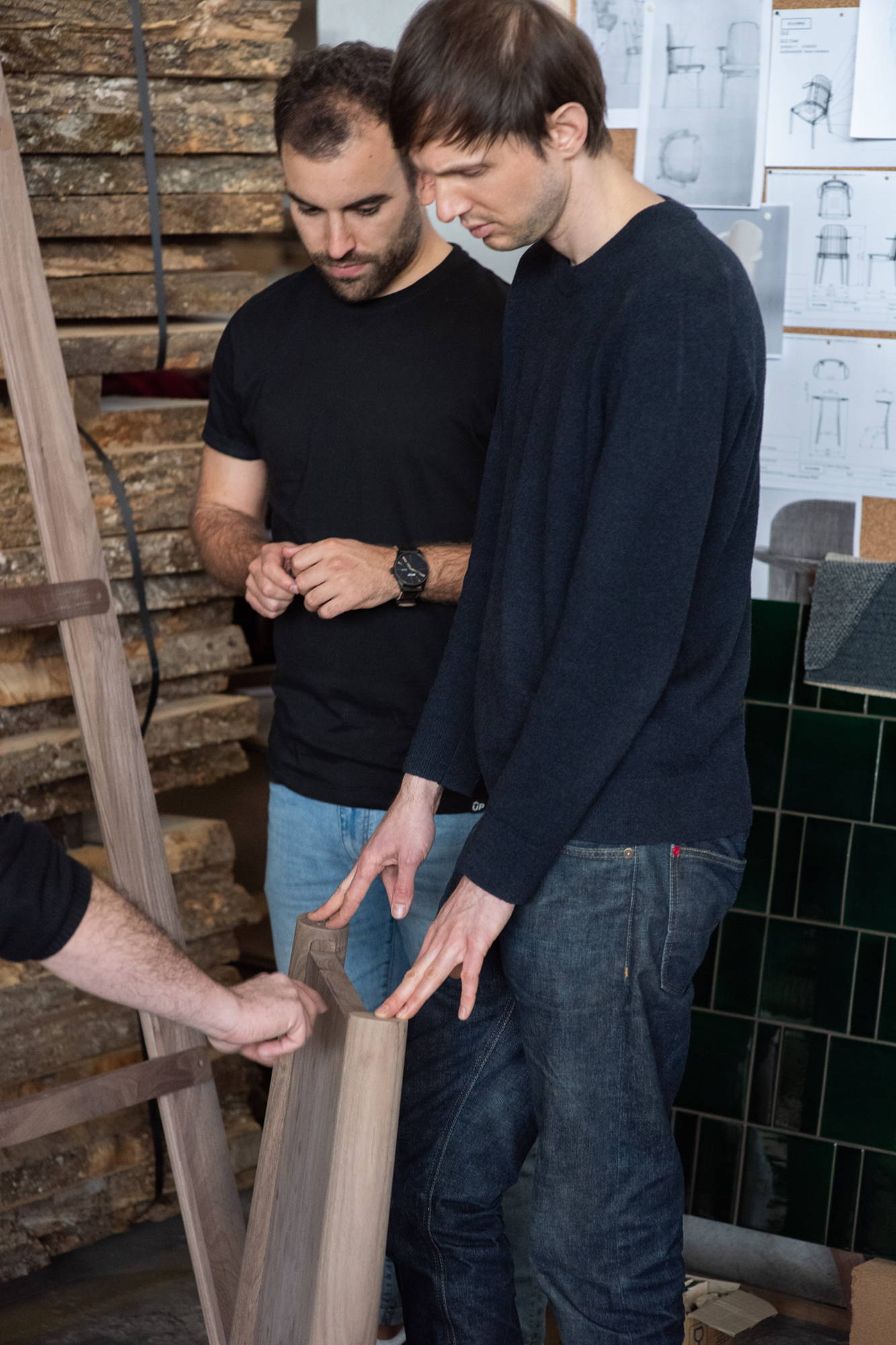 De La Espada Atelier products embrace our skill in woodworking, focusing on the beauty and tactility of solid wood with luxury in the details: "When I design or think about things, of course I want them to be beautiful, but I also want them to be humble and ... honest," says Simon. The in-house studio explores historical periods that interest the firm, Arts & Crafts, Scandinavian and mid-century design, traditional craft techniques, new materials, and new typologies. The products are considerate of the way people naturally want to interact with them, and have an inviting materiality that incorporates the varied craft traditions of Portugal. "We are using our De La Espada Atelier to bring in new materials, establish new collaborations and think about other ways of creating [products]," says André.
Each concept is born through conversation between Simon and the co-founders and creative directors of De La Espada, Luis De Oliveira and Fatima De La Espada, covering inspiration, general aesthetic direction, areas of research and an analysis of the specific products to concentrate on. Simon then creates a detailed design which he brings to the rest of the design team, who share their input and technical expertise, initiating a brainstorm about "what makes each piece unique, where to focus, and what features we will keep or remove," explains André. And where the product uses a new material, "we give our input about the materials and technologies, we try to find the right partners to collaborate with us on specific pieces and projects. It's a constant interaction where we learn from them [partners and craftspeople] but we also challenge them with our own view and problem solving through design-thinking processes." There is constant collaboration amongst our in-house design team, working closely with our woodworkers and upholsterers, to ensure each product is of the highest standard.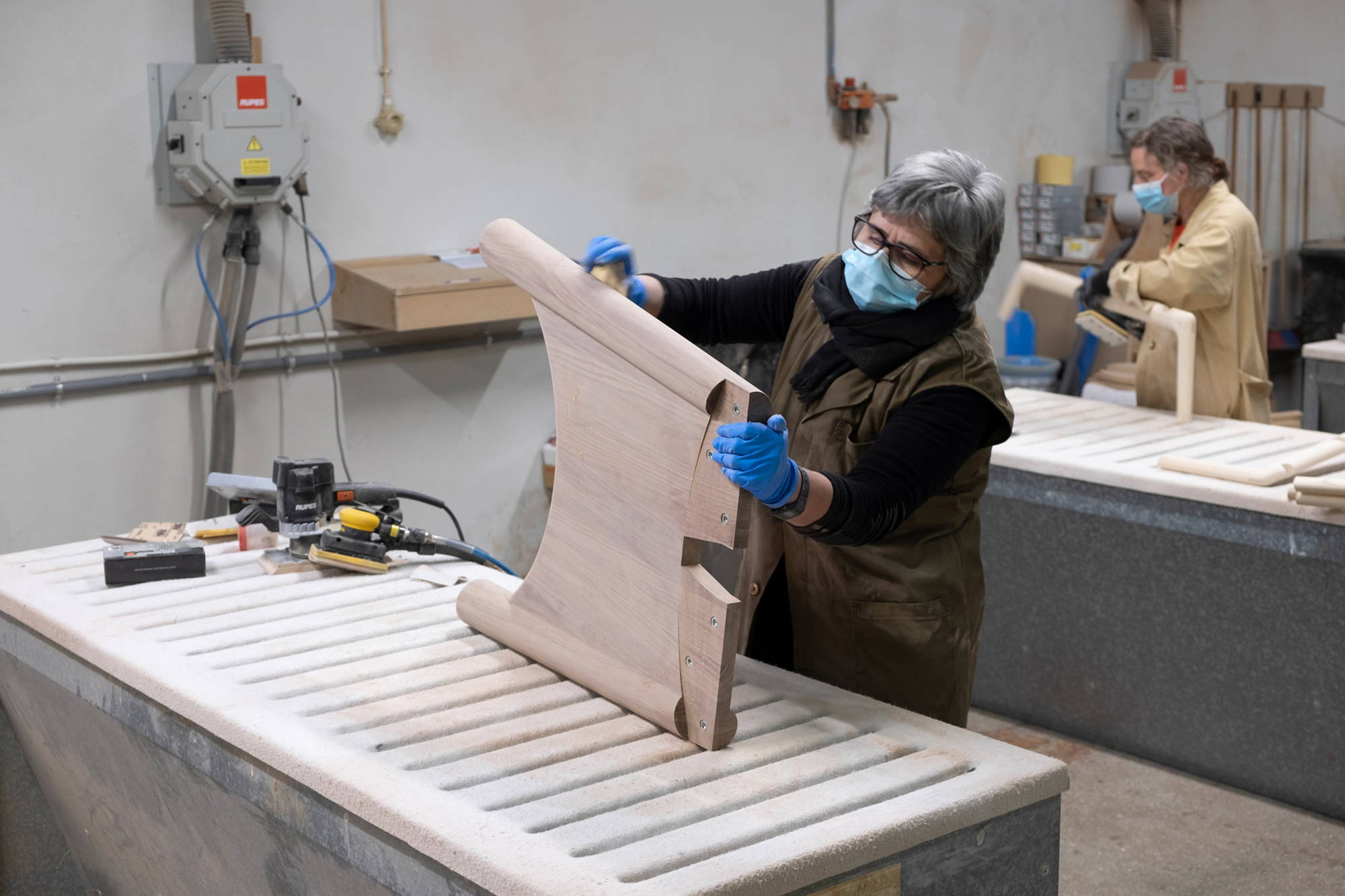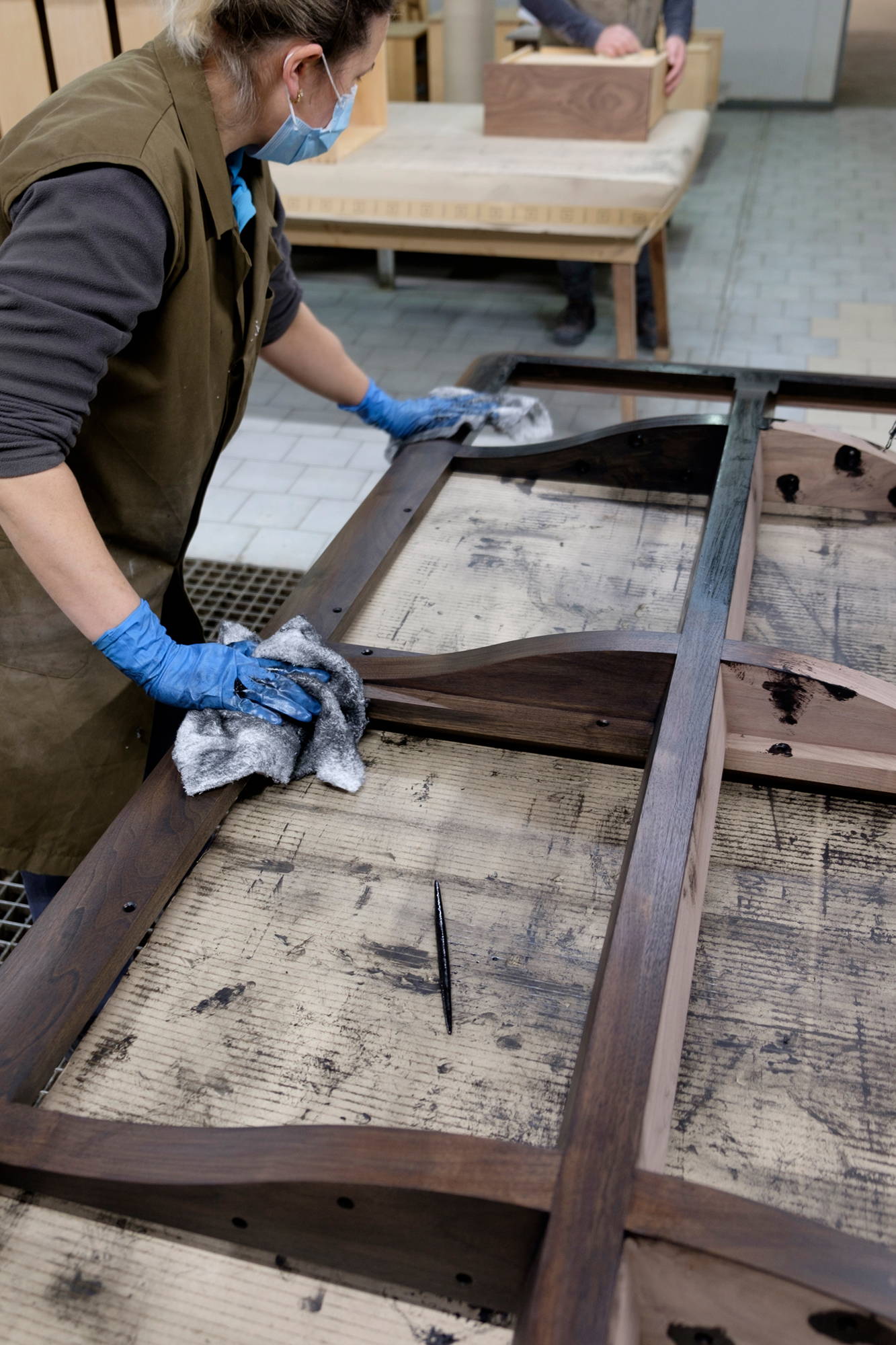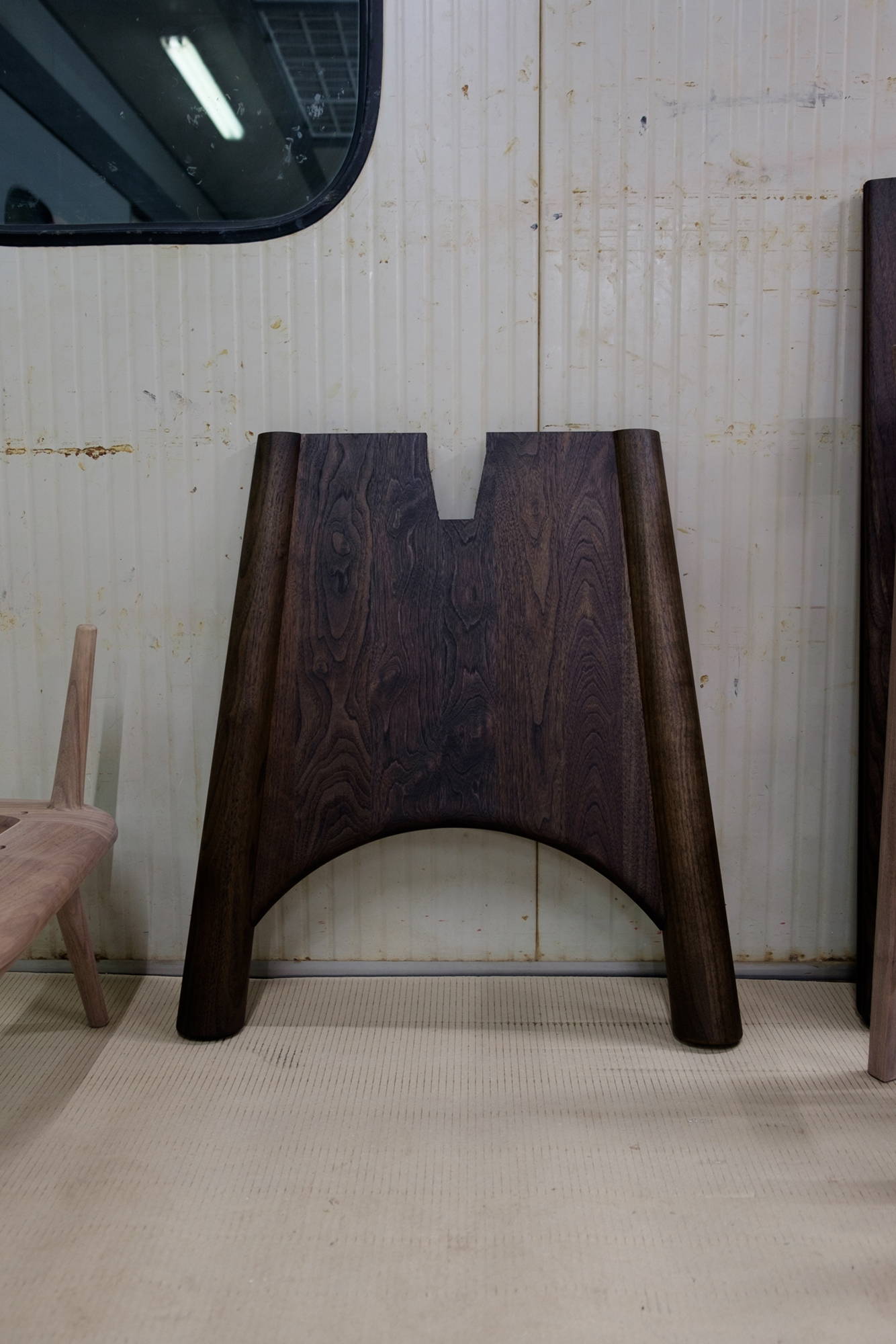 The Twenty-Five collection, so named for its arrival on the 25th anniversary of De La Espada, made its debut with two products: a dining table and dining chair.
The Twenty-Five Dining Table is a solid wood piece inspired by the structure of bridges and their arches, with a tabletop featuring handmade Portuguese tiles from the historic and innovative tile workshop Viúva Lamego in Sintra. The design reflects mid-century Scandinavian, French and Portuguese influences in an understated form with a material combination that is both beautiful and high performing.
"I'm always focussed on keeping the tactility in a piece ... for example, in the Twenty-Five Table, the table edge is shaped so it doesn't just look nice but it also feels nice when you sit at the table. The edge kind of slants down a little bit and it has a very soft corner, so it comes slightly almost towards you as you put your arm on it," explains Simon. "And then another element is the thickness of the top. This is an influence by Charlotte Perriand, that kind of quite hefty tabletop, and it feels nice to touch and hold it."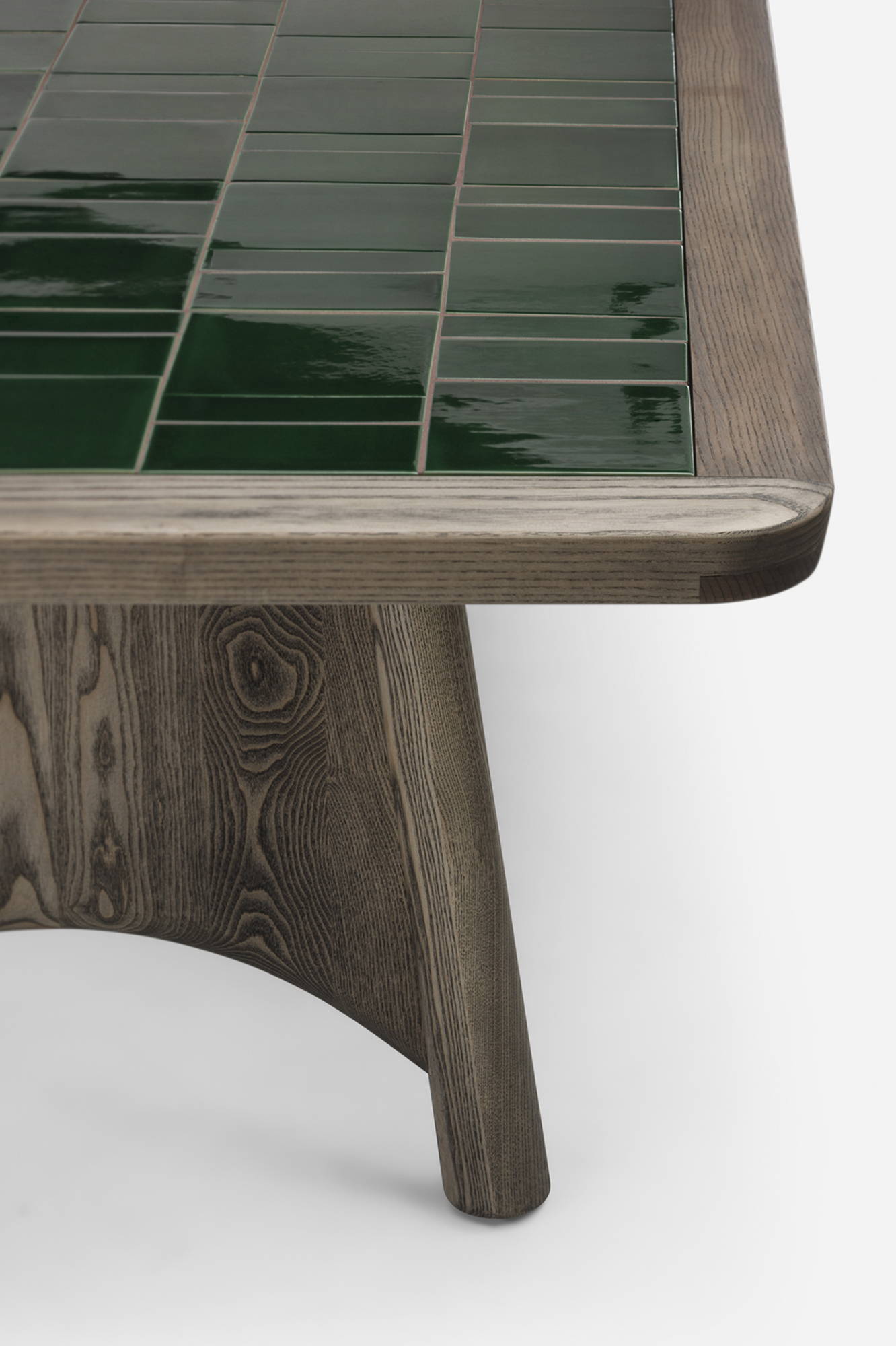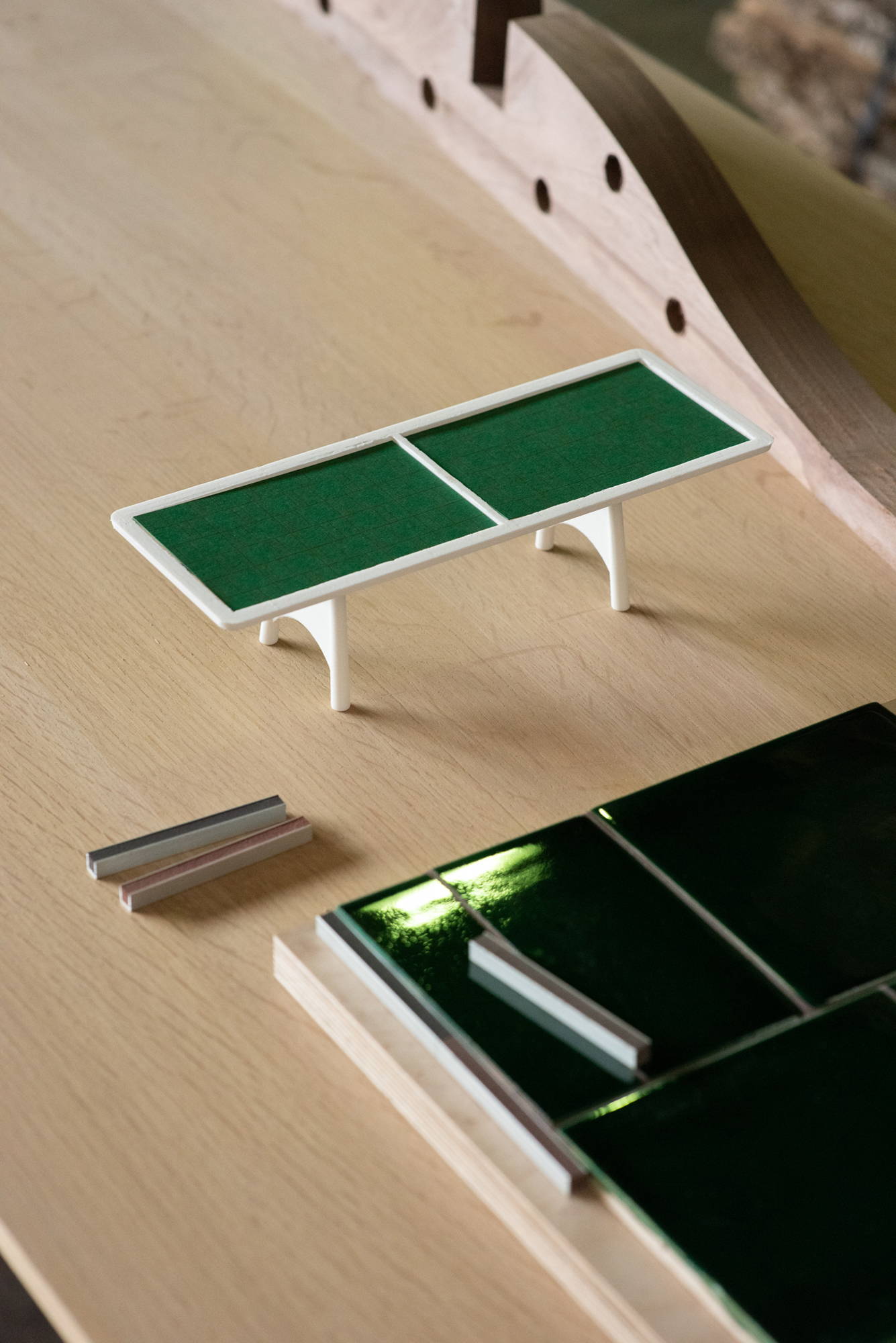 Twenty-Five dining chair has a solid wood form that nods to barrel making, its curved backrest made from ten components carved and joined. Shortened armrests allow for relaxed comfort and more flexible sitting positions within the chair. The design was inspired by the work of early 20th century Swedish designer Axel Einar Hjorth, and its barrel shape references the wine production of Portugal. It celebrates solid wood in both large and small ways:
"A lot of the Twenty-Five collection pieces include this detail of a scooped out piece of timber. For example, if you look at the back leg of the chair, it looks like a knife has cut away part of the round section. This scooping out is a very subtle way to really show the grain," Simon explains.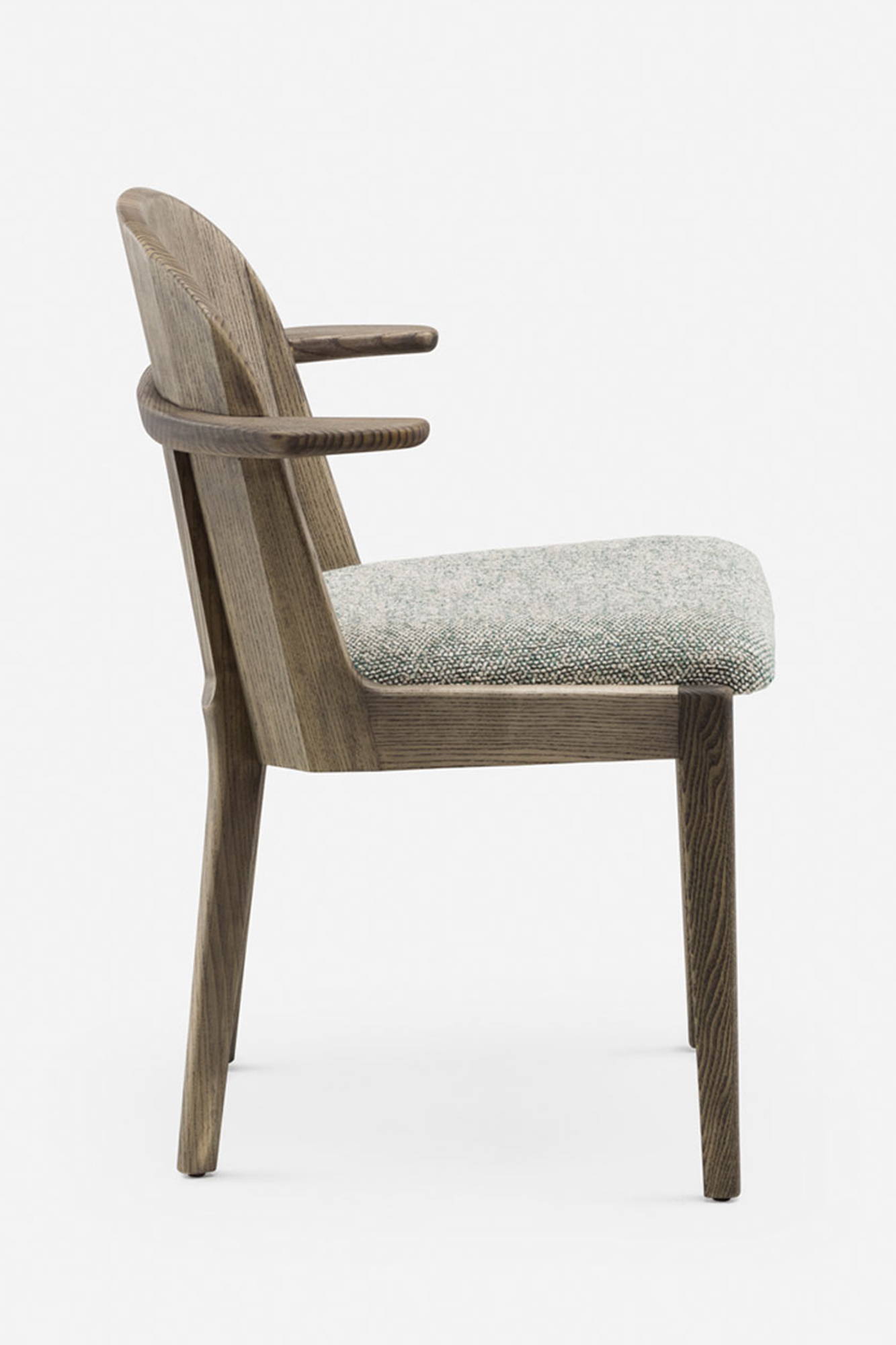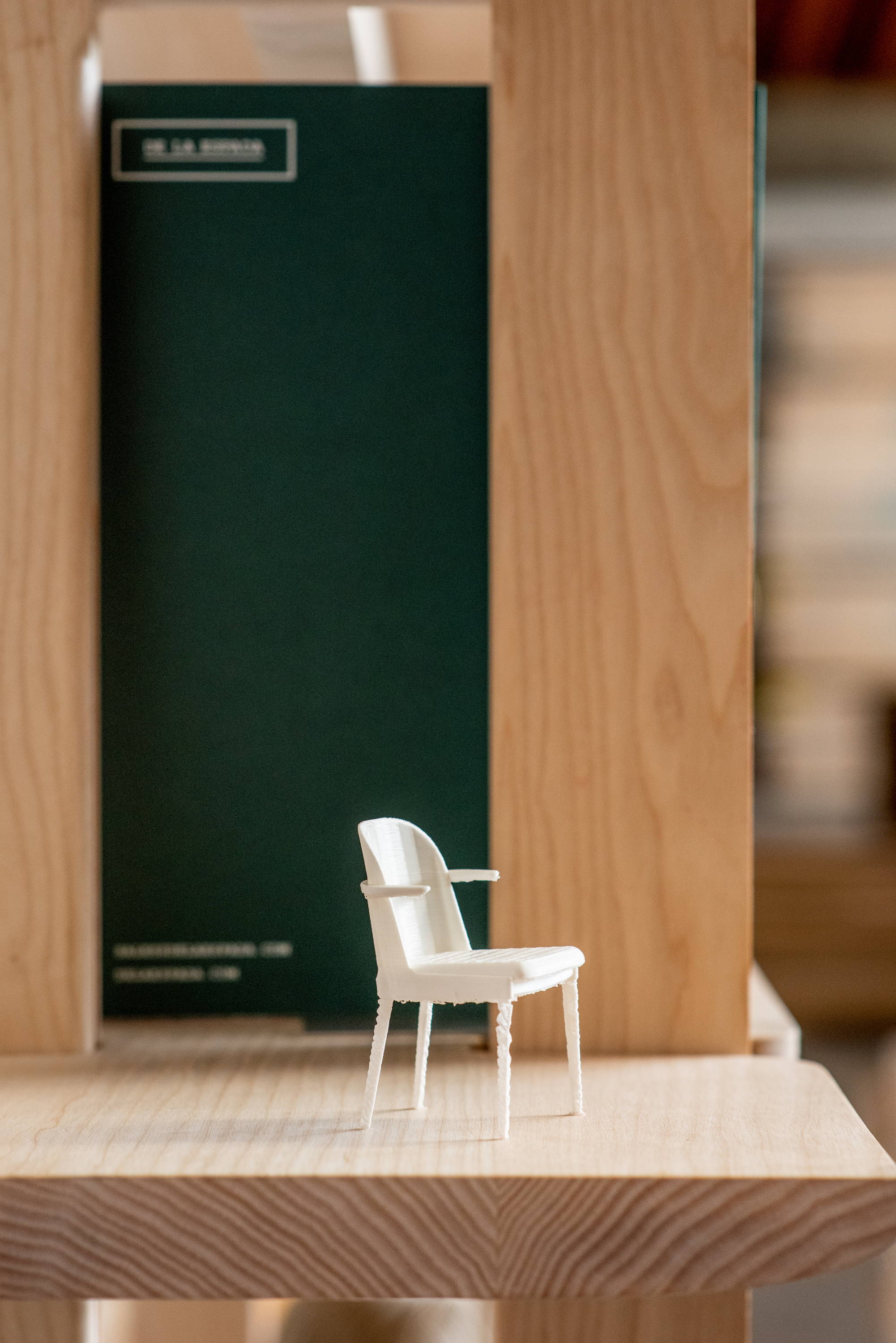 The De La Espada Atelier product range will continue to evolve, incorporating new materials, textures, and typologies over time. It is a celebration of the evolution of De La Espada, our craft expertise, outstanding materials, and the talents of our home country, of collaboration and the thrill of taking on new challenges. André explains:
"I think that's part of what makes us different ... we challenge ourselves to learn more about the materials, processes and technologies and we are always seeking to explore alternative solutions ... new ways of working with a material, how to improve processes and combine the know-how with different approaches. I believe it's really one of the things that we are good at and all this evolved thanks to our close connection between our team and the factory."
Photo credit: Carlos Teixeira
SHOP THE TWENTY-FIVE SERIES
---